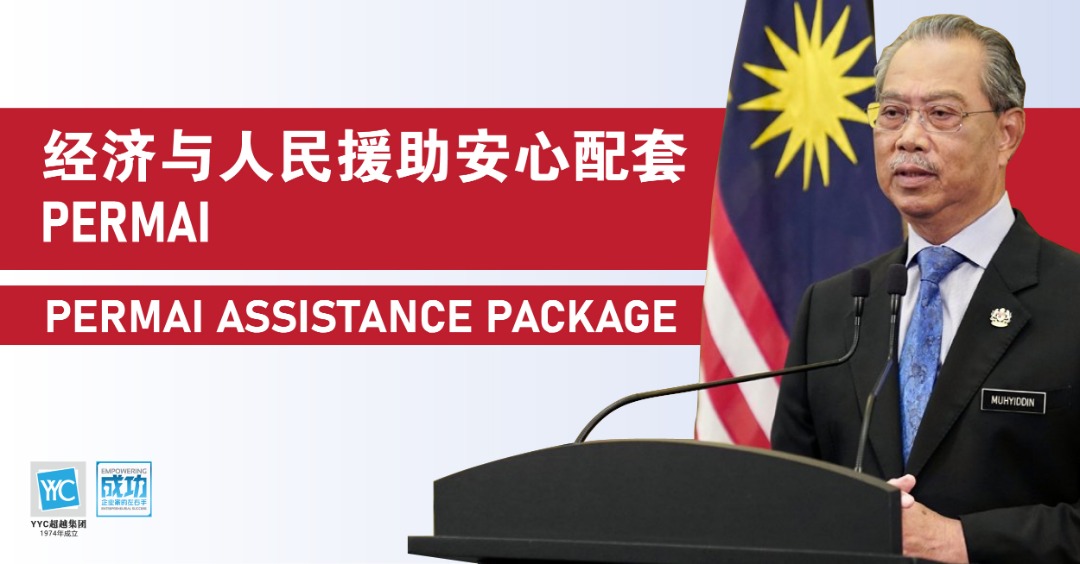 Prime Minister Tan Sri Muhyiddin Yassin has announced the "Perlindungan Ekonomi dan Rakyat Malaysia" PERMAI Assistance Package worth RM15bil on Monday (Jan 18). Muhyiddin said a total of 22 initiatives will be implemented under Permai, anchored on three main objectives namely - Combating the Covid-19 outbreak, safeguarding the welfare of the people, and supporting the business continuity.

The following are the highlights of PERMAI Assistance Package:
1) Wage Subsidy Program 3.0
-All employers operating in the MCO states will be eligible to apply
- Irrespective of sector
- Eligible employers will receive a wage subsidy of RM600 for each of their employee (earning less than RM4,000)
- The wage subsidy limit of 200 employees for each employer will be increased to 500 employees.
2) The Government will expand the Prihatin Special Grant Plus assistance to cover 500,000 SMEs in the seven MCO states with a payment of RM1,000 each, while 300,000 SMEs in other states will receive RM500 each.
3) Government will accelerate the implementation of the SME and Micro SME e-Commerce Campaign and Shop Malaysia Online campaign, with a total allocation of RM300 million.
4) For those who suffered loss of employment during the MCO enforcement, the Government has agreed to relax the conditions for the Employment Insurance System program or SIP PRIHATIN. Employees who do not meet the minimum contribution conditions, or whose contract was not extended after having been renewed for at least 3 times previously, are now eligible to apply for the SIP PRIHATIN assistance of 30 percent of their monthly salary for a period of 3 months.
5) Special tax deduction to any company that provides a reduction of rental on business premises to SMEs of at least 30% from the original rental rate from 1 April 2020 to 31 March 2021. This special deduction will be expanded to cover the rental reduction also given to non-SMEs. This special deduction period will also be extended until 30 June 2021.
6) Human Resources Development Fund (HRDF) will exempt the employer levy for companies that are unable to operate during the MCO and CMCO periods.
7) The moratorium facility, including extension of the moratorium and restructuring of loan repayment will continue to be offered by banks as announced previously. For flood-affected states, 15 banks have offered the loan repayment moratorium.
8) Government will expedite the implementation of microcredit schemes that had been announced previously. They are the RM1 billion microcredit facilities include soft loans amounting to RM390 million by Bank Simpanan Nasional, RM350 million by Agrobank and RM295 million by TEKUN.
10) A special tax relief of up to RM2,500 on the purchase of mobile phones, computers and tablets which expired on 31 December 2020, will be extended for another year until the end of 2021.
11) The provision of free 1 Gigabit data has been offered to the public to browse websites, including for educational purposes. This RM500 million facility started on 1 January 2021, and will be extended until the end of April 2021.
12) A special discount of 10 percent on electricity bills from January to March 2021 to six business sectors nationwide, comprising hotel operators, theme parks, convention centres, shopping malls, local airline offices as well as travel and tour agencies. In addition, electricity rebates will be given to all TNB users, domestic and non-domestic at a rate of 2 sen per kilowatt-hour, which is equivalent to a reduction in electricity bills of up to 9 percent for a period of 6 months, from 1st January to 30th June 2021.
13) The one-off cash assistance of RM500 for tour guides, and taxi, school bus, bus, rental car and e-hailing drivers.
14) Rescheduling and Extending the Moratorium Period for MARA Loans and MARA Premises Rental.For MARA borrowers, MARA will continue its MARA PRIHATIN Peace of Mind 2.0 program, where borrowers can apply to reschedule the repayment of MARA education loan facilities, or for business loan moratorium until 31 March 2021. In addition, MARA entrepreneurs affected by COVID-19, MCO and the floods can apply for the MARA business financing rescheduling programme.
15) The first batch is expected to be vaccinated by early March, and Malaysia is expected to meet its target of vaccinating more than 80 percent of its population or close to 27 million people by the first quarter of 2022.
16) SOCSO is involved in the COVID-19 Screening Test Program on registered foreign workers. The cost of screening will be borne fully by SOCSO in red zones to identify possible.
17) Private hospitals have agreed to receive and treat both COVID-19 and non-COVID-19 patients to help alleviate the strain on the public healthcare system. The Government will allocate RM100 million for this purpose.
18) The Government appreciates the contribution of delivery riders who form the backbone of the delivery services of goods and meals during this MCO period. In this regard, RM24 million has been allocated by the Government to fund the full contribution under SOCSO's Self-Employment Social Security Scheme.
19) The one-off provision of RM500 to healthcare frontliners and RM300 to other frontliners will be paid in the first quarter of this year.

20) To further enhance the i-Sinar facility, especially for those facing challenges due to the MCO and floods, the Government has been informed that EPF will provide an advance of up to RM1,000 from the amount applied under the i-Sinar Category 2 facility.
To better understand how the 2021 Budget initiatives and assistance available can help you, please visit the Budget 2021 Benefits Portal today at   http://belanjawan2021.treasury.gov.my/manfaat