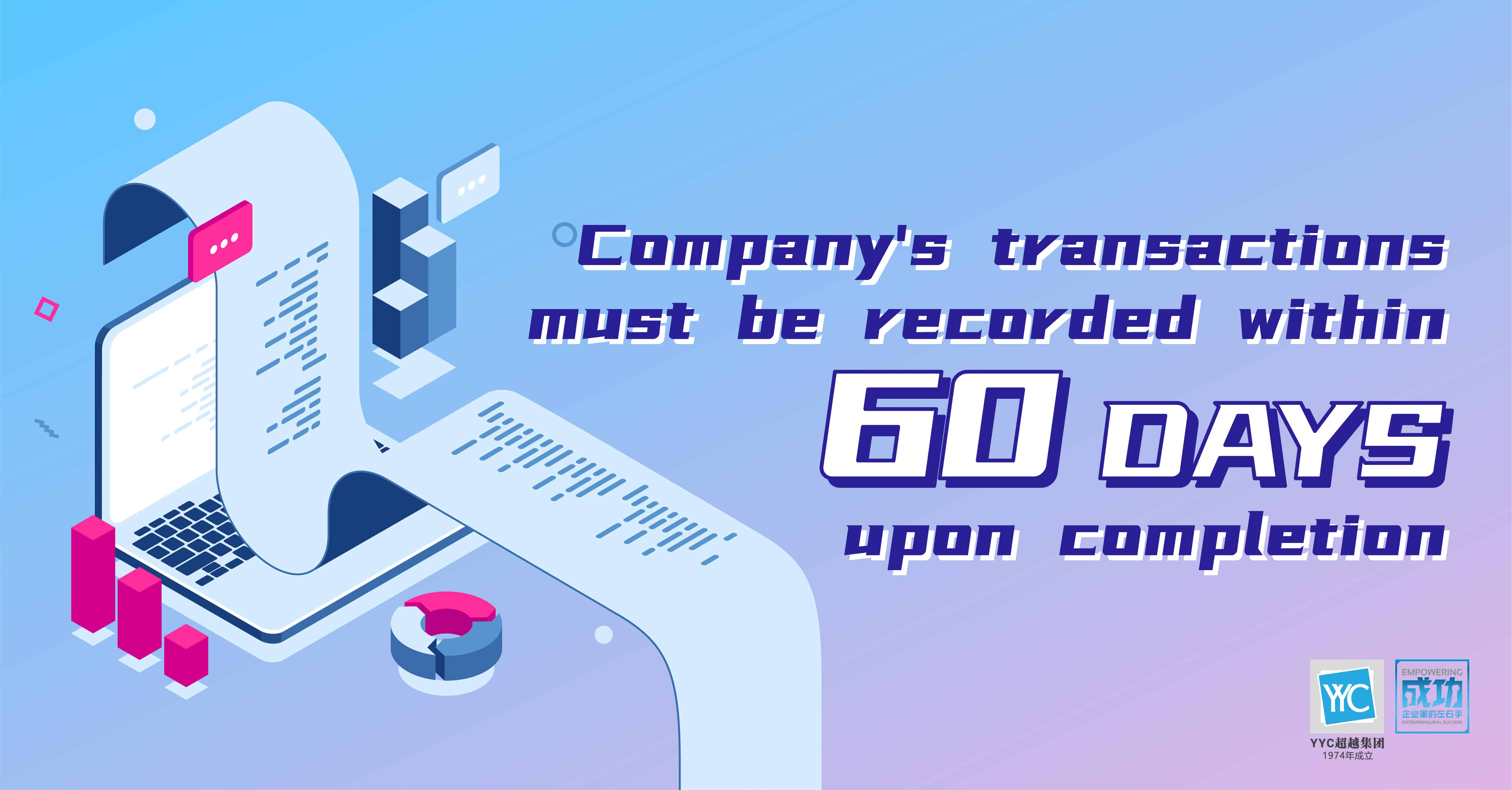 YYC Newsletter 23/9/2020 
View in Mandarin
   COMPANIES ACT 2016 - DIRECTORS AND MANAGERS' RESPONSIBILITIES IN ACCOUNTS TO BE KEPT 

Under the Companies Act 2016 Section 245 - Accounts to be Kept

   A company, the directors and managers are required to comply as below:

ensure transactions are recorded in accounting within 60 days upon completion;
ensure accounting and other records are kept properly;
ensure that the records and documents kept are sufficient to explain the transactions and financial position of the company;
prepare the profit and loss account, balance sheet and any other documents required to be attached in a true and fair manner.


   All documents and records

must be kept for 7 years after the completion of the transactions or operations to which the entries relate
shall be kept at the registered office of the company;
or at such other place as the directors think fit and shall always be open for the inspection of company directors.


The company and every officer can be fined up to RM500,000 or imprisonment of up to 3 years, or both. 


The court may, in individual cases, order the company to open its accounts and related records to be audited by an approved auditor acting on behalf of a company director.


   How about accounting documents and records of operations outside Malaysia?

The company may keep its accounting and other records of overseas operations at a place outside Malaysia,
provided that such accounting and other records are sent to Malaysia and be kept in Malaysia for inspection by the directors at any time.
The accounting and other records to be kept shall include statements and returns of the business of the company with respect to the business dealt with in the records so kept as to enable the preparation of true and fair financial statements and any documents required to be attached to the financial statement.
If any accounting and other records are kept abroad, the Registrar (SSM) may require the company to produce those records at a place in Malaysia or determine the type and manner of the records to be kept in Malaysia.


Source:
Companies Act 2016