About Us
We are a group of professional accountants, tax specialists and business consultants dedicated to advise and assist Malaysian businesses grow. Our office is in the heart of town - Pudu, Kuala Lumpur the capital of Malaysia.
We have been established for more than 30 years and we have throughout the years helped more than thousands of businesses grow. Some of our clients are now publicly listed on the stock exchange of Malaysia, some have become globally competitive and have ventured overseas and some foreign investors' businesses are now well established in Malaysia.
Please feel free to contact us and look for Shin Yap or Chau Yap if you have any enquiries.
Our address and contact info: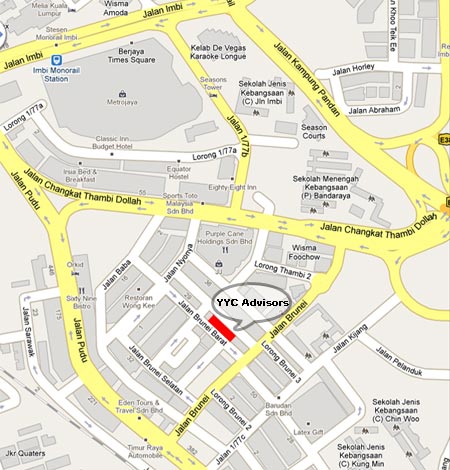 17 & 19, Jalan Brunei Barat,
Pudu, 55100 Kuala Lumpur.
Tel: +603-2142 6689
Fax: +603-2141 0957/+603-2141 7468
Email: shinyap@yycadvisors.com
You can download our Company Profile in PDF Format by clicking on the link below or right click and choose save as: