HIRING EXTRAORDINARY
We are an extraordinary company to work for. We have: 
Job Enrichment Program - Designed to nurture future talents and develop all-rounders. Our people are able to experience different job scopes within the organization. 
YYC Talent University - Through in-house training, we allow our people to build skills, stay up to date with industry changes, and build relationships among employees. 
Young and Energetic Working Environment - We are inspired to create a fun workplace. Our people are motivated to work and always have positive mindsets. We work hard and play hard. 
FlexTime - In this fast-changing business world, we understand that flexibility in work will benefit both employers and employees as it helps people to manage the pressures of modern life. 

We are the proud recipients of the platinum-level acca approved employer award and graduates' choice award (GCA) 2018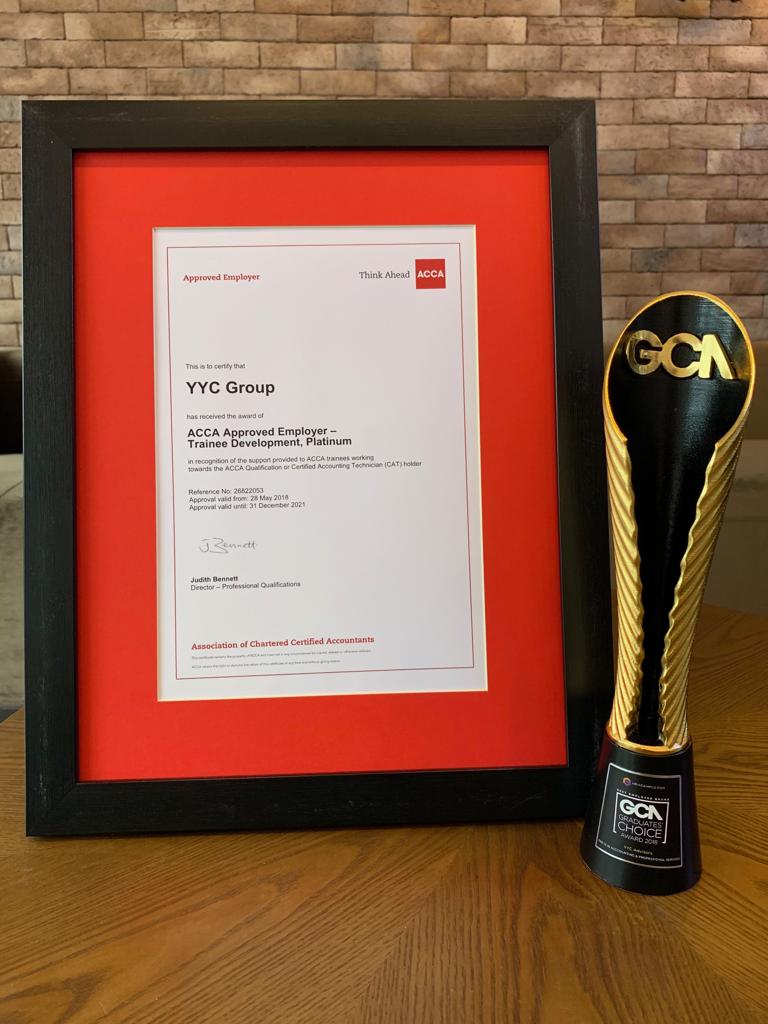 WORK IN A COMPANY AS UNIQUE AS YOU ARE
YYC is a place where talents converge to discover and develop their strengths;
YYC is a place where all talents have a chance to fulfill their potential and find success;
YYC is a place where dreams and aspirations are not smashed but empowered;
YYC is a place where YOU can find inspiration to do good and be the best!
We are starting a movement. We are assembling a #1 team that is capable and passionate about empowering CEOs of SMEs to step up and to make any vision, dream or desire become a reality. 
In this movement, we are calling for a #1 team to join us. We believe that there is a powerful driving force in all of us; let's awaken this force and use it to enable SMEs to step forward and truly be a pillar in contributing to the nation's growth. 
AUDIT
Audit Manager / Assistant Manager
Plan, manage and lead an audit team to perform and deliver high quality assurance and compliance work for a portfolio of diversified clients. 

Manage individual team portfolio's financials, including budget, WIP, timely billing and collection and achieve team and division budgets and performance objectives. 

Has at least 3-5 years of external audit experience with at least 1-2 years in a managerial role. 
Audit Supervisor
Review management accounts and audit planning prepared by team members.
Has at least 2-3 years of external audit experience with at least 1 year in members supervisory role. 
Audit Senior
Prepare and finalize audit working papers and audit reports to the standards and quality expected. 
Has at least 2 years of external audit working experience. 

tax
Tax Manager / Assistant Manager
Managed an assigned portfolio of clients and projects and lead teams to deliver tax services effectively. This includes corporate tax planning, tax audit and tax investigation. 
Conduct a high level review on complex computation and tax submission before submission to client.
Has at least 3-5 years of tax experience with at least 2 years in a managerial role. 
Tax Team Lead
Prepare and complete tax computations and tax submissions within the given time frame as assigned by the tax manager (The premium clients).
Ensure all tax correspondences are followed up and responded by Tax Associates and Tax Senior in a timely manner. 
Has at least 3 years of tax experience with at least 1 year in members supervisory role. 
Tax Senior
Tax computation of companies and tasks assigned by tax manager are completed accurately and timely. 
Respond and follow up with the general tax correspondence on a timely manner. 
Has 2-3 years of tax experience. 

Accounting
Branch Manager
Lead all operational aspects and ensure company's goals and metrics are achieved, manage team to achieve budget, sales forecast and staff KPIs, identify areas of improvement and take action to address challenges, leveraging on growth opportunities. 
Preferable have strong accounting and tax knowledge and at least 5 years experience in accounting firm background, at least 2-3 years of leadership. 
Account Assistant Manager
Assist Branch Manager in leading and guiding branch staff, facilitate team member and review senior consultant's KPI, reviewing full set of accounts including General Ledger and financial reports. 
At least 4 years of experience in accounting firm background with 1-2 years of leadership role. 
Account Senior Consultant
Prepare, review and finalize accounts of own portfolio and supervise team members in their daily operations job to meet timelines and quality standards.
At least 2 years of working experience in accounting firm background.
Account Executive
Prepare full set account according to documentations provided by client, generate management report and provide advice according to clients' needs and account position.
Required skills: Bookkeeping, account receivable, account payable, general accounting, general ledger, and tax.
At least 1-2 year(s) of working experience in accounting firm background. 

Sales & marketing
Sales & Marketing Executive
To source for potential leads to generate sales opportunities & achieve monthly sales target given by the company. 
Support marketing events / activities organized by the company. 
Has at least 1 year of sales experience in the services industries. 
Event cum Marketing Executive
Coordinate event planning, meetings across relevant teams and ensure follow-up action are taken accordingly. 
Manage customers, event costs, external providers & event logistics matters accordingly. 
Has 1-2 years of corporate event management experience. 
Graphic Designer
Produce marketing materials to support events, workshops such as book cover, flyers, posters and etc. 
Produce internal design materials such as invitation cards,company profile and other materials required from time to time. 
Has a minimum of 2 years of relevant experience in graphic design. 

Finance
Collection Executive
Manage collection activities of past due, critical accounts.
Ensure professional relationships are established and maintained with clients.
Minimum of 3 years of progressive, successful experience in the commercial sector. Hotel services industry experience is a major plus.

Database
Database Executive
To maintain and update the customer management system for customers, who newly engaged and terminated the services, and any customer information changes, such as business address, etc. 
To prepare, coordinate and plan for surveys to be conducted.
Experience conducting basic market research/survey & proficient in Microsoft Excel (good knowledge).

global business solution
Payroll Senior Executive
Manage a full spectrum of client's payroll processing works & be accountable to perform payroll variance check and reconciliation.
To review and generate payroll related reports & provide support and advice to clients pertaining to payroll and tax related inquires.
Minimum 3-5 years of experience doing payroll. Experience in a shared services centre and knowledge in Singapore payroll is an advantage.

internship
For Audit, Tax, Accounting, Business Advisory and Finance departments.
Contact Us:

No.32 & 34, Lorong Thambi 2, 
off Jalan Brunei, 55100 Kuala Lumpur.

Tel: +603-9078 2868
Hp: +6019-368 6868
Email: recruitment@yyc.my