13 Examples of Taxable Services in Information Technology!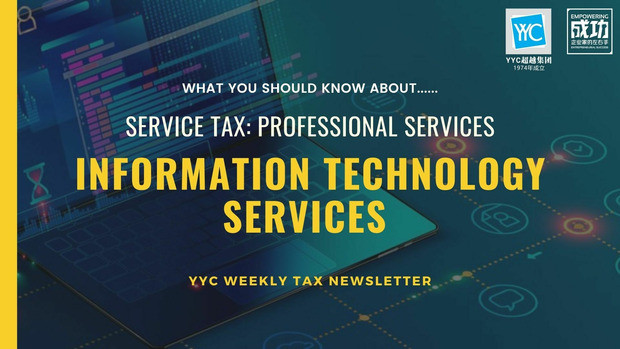 Service tax is a consumption tax levied on the prescribed services known as 'taxable services'. The provision of Information Techology Services (ITS) is a taxable service under Item 8, Group G, First Schedule, Service Tax Regulations 2018. Information technology service providers who have a total turnover for a period of 12 months in excess of the RM 500,000 must be registered under the Service Tax Act 2018 and charge service tax on the provision of taxable services to their customers.

---
Overview
Information technology is the use of any computers, storage, networking and other physical devices, infrastructure and processes to create, process, store, secure and exchange all forms of electronic data.

---
Scope of taxable services
Provision of all types of information technology services including *distributing or reselling of information technology services on behalf of any person. 
*Expansion of scope as per Service Tax Policy No.1/2020
ITS include services associated with the following:
i.     Computing services
ii.    Coding & programming
iii.   Application development
iv.   Software development
v.    System integration
vi.   Web development
vii.  Online platforms (Effective 1/1/2020, considered as taxable service under Group G, Item 12, First Schedule of the Service Tax Regulations 2018.)
viii. Networks integration
ix.   Data processing, administration
x.    Cloud services
xi.   Artificial Intelligence
xii.  Internet of Things

---
Examples of taxable services
---
non-taxable services
ITS exclude the following services:
i.    The provision or sales of goods which are related with the provision of the ITS;
ii.   Provision of ITS in connection with:
       (a) Goods or land situated outside Malaysia; or
       (b) Matters other than matters relating to (a) outside Malaysia

Example:
Assembly of computer, server or hardware; operating system software embedded in hardwareCharge on storage/ co-location of hardware or serverRental/leasing of computer, hardware, serverReference: Guide on Information Technology Services - As at 8th March 2021