Begin with the end in mind, "If only we knew and plan earlier"
By Phang Kar Yew of Managing Partner of YYC Harveston Wealth Advisory Sdn Bhd 

SMEs Always on expansion mode!
Mike's father, Mr. Tan was a successful plastic manufacturer in the early 90s. Being a typical Chinese businessman, was frugal in lifestyle spending but 'lavish' in the business expansion. Mr. Tan continue expanding the business by purchased 2 factory lots for RM20 million.
1997 Crisis
Tragedy begins! The 1997 economic crisis came and the company was really in financial difficulty. In 1999, when Mike at his final year university exams, he called to come back immediately as his father was down with final stage liver cancer. It was devastating. He had no choice but to take over the business without any experience in the business. In 2000, his father passed away, the company's debts hit the ceiling. Mike had to be strong and composure to manage the legacy passed down from his father legacy. What legacy? No. It was a liability.
Bankruptcy
Finally, in June 2001, the company was placed under liquidation and the banks also went after Mike, being the director and personal guarantor for the business loan. Mike had to force sell off their family assets. Later that year, the young Mike too was declared a bankrupt.
Family Wealth & Business Succession Planning
What can we learn from the tragedy of Mike and his family? - "If only we knew and plan earlier".  The typical financial life cycle of a business owner consists of four phases namely; wealth protection, wealth accumulation, wealth consumption, wealth preservation and distribution as depicted in Diagram 1.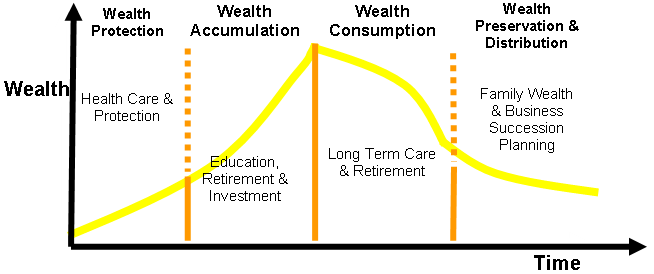 Diagram 1: Business Owners' Financial Life Cycle

Wealth Protection
In the process of building a business empire, most business owners are willing to take risk and the economic crisis such as in 1997 had affected all sizes of business. Thus, business owners should always protect their personal assets/wealth from business risk by building a firewall.
Apart from business risk, signing personal guarantee for bank borrowings is a common practice. By signing a personal guarantee, it means that the business owners have bet all their personal assets on their business. Thus, a debt cancellation planning must be deployed to manage the risk arising.
Mr. Tan was down with liver cancer without any healthcare and critical illness protection. This proved to be very costly and may erode the wealth that a business owner built his entire life. Worse still, the family may lose the business owner who is the sole breadwinner and their family income source not be protected. 
Wealth Accumulation
Should Mr. Tan reinvest into his business all the profit that his company made?  Or should he invest into something else as a risk diversification strategy? Don't put all the egg in one basket! Business owners could set aside money for other purposes.
Begin with the end in mind. Investment is a means to an end and not an end by itself. Business owners should know their investment objectives; for their children's education or for their own retirement? Can you sleep when the share market drops? Many businessmen make money from their business but have gotten their hands burnt in the share market! Why so? Don't take unnecessary risk!
Wealth Consumption
This is the phase where retirement and long term care kick in and business owners start to utilize the wealth will depend on their lifestyle. The issue is whether a business owner sets aside enough liquidity funds (totally separate from the business) for his retirement or merely relies on the business to continue to do well in his retirement age? Remember this, past track records do not guarantee future success!
Wealth Preservation & Distribution
Is not matter of how much wealth we have built, is matter how we managed and preserved it! Bad investment, mismanagement of tax matters; family squabbles and partners' disputes are the common causes of wealth shrinkage.  It is common to see siblings fighting in court on inheritance issues.   Family feuds do happen in any form business structures. So, can wealth be preserved through generations? How can the business be passed on to the successor smoothly? Is a trust structure better than a will?  Who should I give my assets to?
Conclusion
For Mike and his family, "if only they knew and plan earlier" the importance of planning much earlier, some of the tragedies may have been avoided. No one plans to fail, but most people fail to plan.
Phang Kar Yew is the Principal Partner of YYC Harveston Wealth Advisory Sdn Bhd, provides comprehensive and integrated financial planning services. We hold the Capital Markets Service License issued by Securities Commission, Financial Adviser's License by Bank Negara Malaysia. The writer solicits feedback at enquiry@harveston.com.my.